Biography of Winold Reiss (1886-1953)
Born on September 16, 1886, in Karlsruhe, Reiss began his artistic career under the guidance of his father Fritz Reiss, who specialized in German landscape painting and peasant portraits. He continued his education in Munich studying with Franz von Stuck at the Kunstakademie (Royal Academy of Fine Arts) and with Julius Diez at the Kunstgewerbeschule (School of Applied Arts). Among the contemporary European developments which impressed him most were Cubism, Fauvism, German Expressionism, the Blaue Reiter, and the modern decorative arts movement.
Like many other young Munich modernists, Reiss was attracted to ethnography. Exhibitions at the city's famous ethnographic museum acquainted him with folk-art forms, which offered a means for translating his visions into a modern style. Reiss was captivated by the creative possibilities he discovered in primitive and non-western art. He maintained a lifelong dedication to the inherent beauty he found in ethnic and peasant faces. By the time he emigrated to the United States, he had already been exposed to more modern art than most American artists.
Ill.: W. Reiss, Advertisement for the Winold Reiss Art School.
Reiss was eager to explore the New World with its rich diversity of races and ethnic groups. American Indians were quick to kindle his fantasy, inspired by the adventure novels of authors such as Karl May and James Fenimore Cooper. Another inspiration came from the spectacular Buffalo Bill shows that had toured his home town in the late 1890s. After settling in New York in 1913, he would soon broaden his palette and became quickly established as a designer in the European arts and crafts tradition. Nevertheless, as a true anthropological observer, he began to seek out North America's ethnic faces travelling all over the country. In 1920, he made the first of his many trips to Montana to create portraits of Blackfeet Indians. Later that same year later, he travelled to Mexico to portray the revolutionaries at Zapata's headquarters, descendants of the Aztec Indians, and what he called "Mexican Fantasies," which became blueprints for his work on ethnic cultures in New York. After illustrating special thematic issues of the Survey Graphic on Mexico, Reiss began his major portrait studies of African Americans and their international heritage, in collaboration with Alain Locke. Reiss was commissioned to supply the visuals for the by now famous Survey Graphic issue entitled "Harlem: Mecca of the New Negro" to highlight black art, literature, and cultural progress in Harlem. His task was to provide portraits and design elements. Locke praised Reiss as a "folk-lorist of brush and palette seeking always the folk character back of the individual, the psychology behind the physiognomy. In design, he looks not merely for the decorative elements, but for the pattern of the culture from which it sprang" (Survey Graphic. 53, March 1, 1925. 653).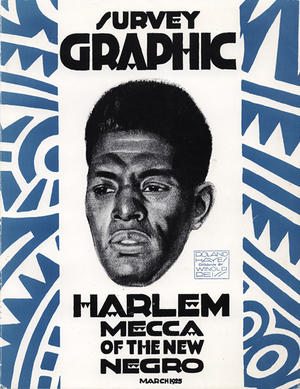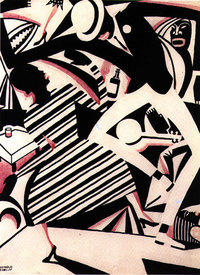 Ill.: W. Reiss, Cover of Survey Graphic, print on paper, 12 x 9, March 1925.
Ill.: W. Reiss, Interpretation of Harlem Jazz, ink on paper,  20 x 15, ca. 1925.
Later that year, the "Harlem" edition was expanded and published under the title The New Negro: An Interpretation. It included Reiss' portraits of several leading black intellectuals, such as W.E.B. Du Bois, James Weldon Johnson, and Zora Neale Hurston. In a letter to Locke, Reiss expressed his deep appreciation for his dedication and collaboration. "I have to tell you again how much I liked to work with you and I only wish that we will have once an occasion in which we can prove just to all our ideals regardless of commercial people. It would make me very happy if my effort in helping your noble work would really be a small seed in the vast land that still has to be ploughed. Do not forget that you can always find me ready if you need help in your idealistic undertakings" (Dec. 31, 1925. Locke Papers, Howard University). Indeed, Reiss and Locke again joined forces in 1942 for another special Survey Graphic issue entitled "Color: The Unfinished Business of Democracy." In addition to his career as a painter, Reiss designed the interiors of numerous commercial establishments. Among his most outstanding achievements was the Cincinnati Union Terminal, which opened in 1933. Here, he fused modern Art Deco design with depictions of Cincinnati history. Ford Peatross recently described Reiss as a "pioneer of modern American design." Reiss was not only a prolific artist but also taught at New York University as an assistant professor of mural painting. He died on August 29, 1953, in New York City. The Blackfeet Indians scattered Winold Reiss' ashes in Montana.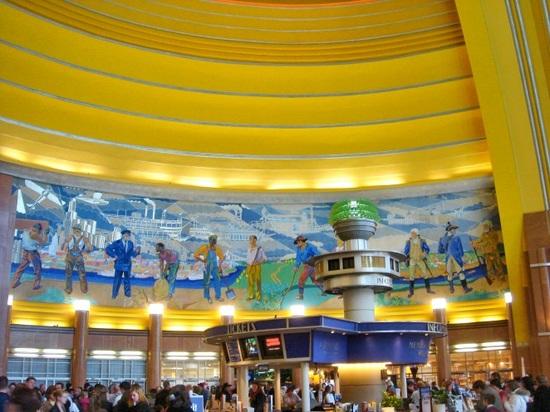 Ill.: W. Reiss, Mural in Cincinnati Union Terminal (detail). Photo © F. Mehring