Getting Around
Getting around Toronto
Hotel Location
Holiday Inn Midtown Toronto
280 Bloor St. West
Toronto, ON, Canada
M5S 1V8
Phone +1 877-654-0228
At check-in, please mention your name and/or FU Berlin group reservation.
Workshop Location:
September 28
Trinity College
6 Hoskin Avenue
Toronto, Ontario
M5S 1H8
Room: Combination Room
Dinner:
The Faculty Club
41 Willcocks Street
Toronto, Ontario
M5S 1C7
September 29 & 30
University College
15 King's College Circle
Toronto, Ontario
M5S 3H7
Room: UC 179
Dinner (September 29):
The Sutton Place
955 Bay Street
Toronto, Ontario
M5S 2A2
Both Trinity College and University College are located on the University of Toronto St. George campus, within walking distance (approx. 5 min) from the Holiday Inn Midtown Toronto. Please note that there are two Holiday Inn Hotels in central Toronto and that your booking is with the Holiday Inn Midtown (not the one on King Street).
Weather: The average temperature in Toronto in September is about 63F/17C (high: 69F/21C, low: 56F/13C).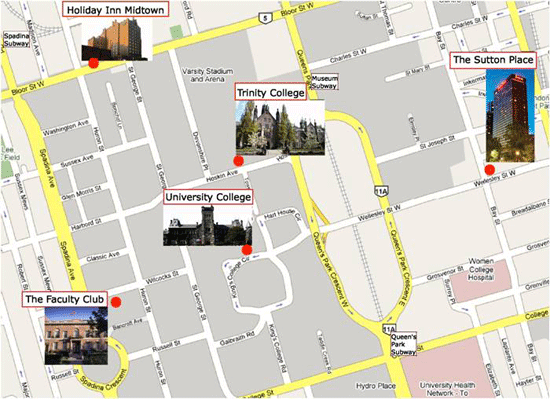 Airport Transportation
The distance from Toronto's Lester B. Pearson In­ternational Airport (YYZ) to both the Holiday Inn Midtown and the University of Toronto campus is about 22 miles, or 35 km. Depending on traffc conditions, the travel time is about 30-45 min. The hotel is located next to St. George subway station.
Airport Express
Airport Express provides bus service from the ai­port to Union Station (bus stops opposite Union Station at the Royal York Fairmount hotel). From Union Station, take the subway (direction Downs­view) to St. George Station. Bus service operates every 20 minutes during peak periods and every 30 minutes during off­peak periods (one way fare $16.95, round trip fare = $29.25, plus subway fare = $2.75).
Customer service representatives are positioned at all 3 international terminals, and have the following locations within each terminal:
Terminal 1 - Arrivals level (outside domestic bag­gage claim area), bus departs from posts B and E;
Terminal 3 - located curbside at area #25.
For more information, call (905) 564-3232 or 1- 800-387-6787 (toll free in Canada). http://www.torontoairportexpress.com
Public Transportation
Toronto Pearson is positioned along several pub­lic transportation routes throughout the Greater Toronto Area. To get to the hotel, you can take the 192 Airport Rocket Bus to Kipling Station and then transfer to the subway (green line). Get off at St. George Station.
http://www.toronto.ca/ttc/service_to_airport.htm
Taxi / Cab
You can also take a number of taxi companies. One trip takes about 30 minutes. Taxis and limos are always available at the arrivals level of each terminal. Companies charge about $50.00 (CAD). Most, though not all drivers take credit cards (VISA, MasterCard, AmEx).
By Car
From Pearson International to the Holiday Inn Midtown Toronto: Take the 401 East ramp to TORONTO. Merge HWY 401 Collector East, then take HWY 427 South exit to Queen Elisabeth Way. Merge on 427 South. Merge on Gardiner East via exit on the left side. Take exit. Turn left on Spa­dina St., then turn right on Bloor St. West. The Holiday Inn is situated on 280 Bloor St. West.
Rental car agencies are available on-site at To­ronto Pearson, with 24-hour support to reserve, pick up, and return rental vehicles. Rental car agencies are located on Level 1 of the parking garages adjacent to each terminal.
For further information, or to make a reservation, please contact the car rental agency directly.
Avis
Website: http://www.avis.com/
Terminal 1 – (905) 676-1032/33
Terminal 3 – (905) 676-1034/35
Budget
Website: http://www.budget.com/
Terminal 1 – (905) 676-1500
Terminal 3 – (905) 676-1623
Dollar/Thrifty
Website: http://www.dollar.com/ or http://www.thrifty.com/
Terminal 1 – (905) 673-8811 x6256
Terminal 3 – (905) 673-8811 x6251
Hertz
Website: http://www.hertz.com/
Terminal 1 and 3 – (416) 674-2020