Guest Lecturer
JFKI Welcomes Guest Lecturer
Dr. Alan Taylor
"From a ten-minute film sequence your whole life can change." This one-liner perfectly captures Dr. Alan Taylor's cineastic enthusiasm that pervades every seminar session of "Framing News," his current - and first - lecture at our institute. One grasps the meaning of this, when Taylor recalls in an insightful anecdote how he, as a clueless 10-year-old, walked into Stanley Kubrick's 2001 to be instantly blown away by the unexpected visual and acoustic magnificence. The place, "Everyman Cinema"in his hometown of Hampstead, North London, Taylor now likes to call his childhood's "personal film school." This is where he spent Saturday mornings, developing his love for motion pictures.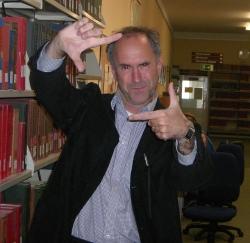 Since then he has turned a hobby into his profession. He graduated from both the London Film School and the Department of Educational Studies at Oxford and wrote his dissertation on Michael Cimino's Heaven's Gate in 1990. Taylor has subsequentlyoffered courses covering Film and Media Studies, as well as American Studies. In addition, he has initiated various screenwritingprograms. He first came to Germany in 2000 when offered a teaching assignment at the Gutenberg Universität of Mainz. Now, after stints in Frankfurt/Main, England and Eastern Europe, he has found a new home in Berlin.
Taylor's teaching approach is practice-oriented and highly interdisciplinary, which makes the Kennedy-Institute an especially good fit. He rejects the separation between academics and creative work, just like other notions of thinking-in-boxes. His seminar "Framing News," deals with Hollywood's representation of US news broadcasting. The course combines cultural,historical, political, and economic issues, while Taylor's background as film scholar is still unmistakably present, e.g. through special emphasis on core sequence analysis.
The course is designed along the lines of his 2005 publication We, the Media, which Taylor first started thinking about while watching Fox News coverage of the events of 9/11. The experience prompted him to examine how news broadcasting had developed into the current dominance of Fox News in America's media landscape.
(Tobias Jochum)