Gary Edwards
Guest Professor (October 2009 – August 2010)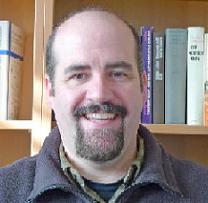 COURSES TAUGHT AT THE JOHN-F.-KENNEDY INSTITUTE:
    Winter Semester 2009/10:
        Birth of the American Republic: Fundamentals of Early Democracy and Culture
    The American Civil War and Reconstruction
   Summer Semester 2010:
        The Slave South of Antebellum America
        Arkansas and the American South: The Paradox of Race and Place
| | |
| --- | --- |
| DEGREE | Ph.D. History, University of Memphis, 2004 |
| RESEARCH FIELDS | Agriculture/Rural, Antebellum South, Slavery, and Yeomen Families |
| FELLOWSHIPS | Fulbright Senior Fellow, Free University of Berlin, Germany Jesse Wills Memorial Fellow, Tennessee Historical Society Newberry Library Seminar Fellow, Chicago, Illinois Woodbury Fellow in Southern History, University of Memphis |
| PEDAGOGIC AREAS | Antebellum America, Agriculture/Rural, Southern U.S. |
PUBLICATIONS:
"Yeowomen:  The Life and Labor of Antebellum Female Plainfolk," in Tennessee Women: Their Lives, Their Times, eds. Beverly Bond and Sarah Wilkerson-Freeman, (Athens:  University of Georgia Press, forthcoming in 2010).
"Anything That Would Pay:  Yeomen Farmers and the Nascent Market Economy on the Antebellum Plantation Frontier," The Transformations of Southern Society:  1790-1860, eds. Susanna Delfino, Michele Gillespie, and Louis Kyriakoudes (Columbia:  University of Missouri Press, forthcoming in 2009).
"Frederick Douglass," in The Encyclopedia of African American History, ABC-CLIO, forthcoming in 2009.
"In and Out of the Chickasaw Cession: Understanding Migrational Pressure and Economic Transition on Tennessee's Final Frontier, 1818-1860," Tennessee Historical Quarterly 65 (Summer, 2006): 106-129.
"Slave Life in Rural West Tennessee," in Trial and Triumph: Readings in Tennessee's African American History, ed. Carroll Van West (Knoxville: University of Tennessee Press, 2002), 96-112.
PUBLISHED BOOK REVIEWS:
Civil War Book Review, H-South, North Carolina Historical Review, The History Teacher.
EDITING AND ADVISING:
Harcourt Publishers.
Foundations: An Undergraduate Journal in History, Johns Hopkins University.
Southern Historian: A Journal of Southern History, University of Alabama.
Tennessee State Museum, Nashville, Tennessee.
West Tennessee Historical Society Papers, Memphis, Tennessee.