Getting around Tampa
Getting Around Tampa
Hotel Location
The Sheraton Tampa Riverwalk Hotel
200 N. Ashley Drive
Tampa, FL 33602
US Phone: 813-223-2222
Workshop Location
John H. Sykes College of Business
The University of Tampa
615 W North B Street
Tampa, FL 33606 US
The John H. Sykes College of Business is located within walking distance (approx. 0.5 miles) from the Sheraton Tampa Riverwalk Hotel. A shuttle service between the hotel and the University of Tampa campus will also be available upon request.
Weather: The average temperature in Tampa in April is about 72F/22C (high: 82F/27C, low: 61F/16C). Please be reminded that the workshop location will be air-condintioned and bringing along a sweater might be a swell idea.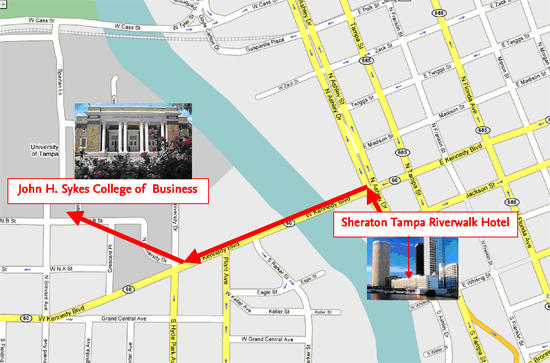 Airport Transportation
Taxi / Cab
The distance from the TPA Tampa Airport to both the Sheraton Riverwalk Hotel and the University of Tampa is about 8 miles. Service from/to the aiport is provided from the curbside of the Red and Blue Baggage Claim. See the taxi starter or use the taxi call button at the column. The airport is served by Yellow Cab and United Cab. Both companies charge the same fares: $2 plus $2 per mile. The minimum fee from the airport is $10. Once the meter exceeds the $10.00, the minimum no longer applies. There is a maximum flat rate fee of $22 to Downtown Tampa and the cruise port.
Yellow Cab: (813) 253-0121
United Cab: (813) 253-2424
Airport Limos (Shared Passenger Van Service)
Bay Shuttle: (866) 259-9929 or (813) 259-9998
Service is provided from the Commercial Ground Transportation Quadrants located at all four corners of the Baggage Claim Level. Discounts for additional members of a group going to the same address and children. The rate from the airport to hotels in downtown Tampa is $11. Rates include up to 3 pieces of luggage.
Bus Services / Public Transportation
Hillsborough Area Regional Transit (HART)
Bus service is available from Tampa Aiport Main Terminal to downtown Tampa. Take HART Bus No. 30 (Town N Country Line) to downtown Tampa and get off at Jackson Street / Ashley Drive. The fares are from $1.50 to $2.60 one way. The trip takes about 45 minutes, with buses departing every 30 minutes from Tampa Airport.
By Car (to Sheraton Riverwalk Hotel)
From Tampa International Airport: Start out going west on W Spruce St. / FL-589 N. Take the ramp toward Tampa Airport. Turn right on to the airport entrance. Take the ramp toward the post office / service road. Turn left on to the ramp. Turn left again on to the airport exit. Take the SR-60 ramp toward I-275 / DOWNTOWN. Merge on to N. Memorial Hwy./ FL-60 E. Merge on to I-275 N toward I-4. Take Exit 44 toward Downtown / EastWest. Take the Ashley Street ramp toward Downtown West / Tampa Street. Merge on to N. Ashley Drive. End at 200 N. Ashley Drive, Tampa, FL.
Car rental companies at TPA Tampa Airport:
Avis: (800) 831-2847
Budget: (800) 5270700
Dollar: (800) 800-4000
Hertz: (800) 654-3131
Enterprise: (800) 736-8222
Thrifty: (800) 847-4389