Referenten
Referentinnen & Referenten
in alphabetischer Reihenfolge.
Britta Baron
University of Alberta

Britta Baron is Vice-Provost and Associate Vice-President (International) at the University of Alberta where she spearheads the international initiatives and activities of the University. Through collaboration internally with students, faculty and staff and externally with agencies, governments and businesses, Ms. Baron works to forward the University's international goals in areas such as partnership development, recruitment, student and staff mobility and alumni relations.
A widely recognized expert in international education, Britta Baron has held a number of senior leadership positions in Brussels, London, Bonn, and New York. Prior to coming to the University of Alberta, Ms. Baron served as the Director of the Canadian Universities' Centre in Berlin and worked as an independent senior consultant in international education for several German institutions. From 1983 to 2004, she served in various leadership roles in the German Academic Exchange Service (Deutscher Akademischer Austausch Dienst or DAAD), most recently as Director of its New York Office. Ms. Baron was also appointed visiting professor in the Department of Modern Languages at the University of Keele in the United Kingdom and taught in the Master's program in International and Comparative Education at the Institute of Education of the University of London.
In addition to degrees in Italian, French, History, and German from the University of Florence and the University of Bonn, Ms. Baron holds an honorary doctorate from Oxford Brookes University. She has participated as a member on a number of selection and review committees, including the 2004 Scotiabank-AUCC Awards of Excellence in Internationalization expert panel and the Advisory Council to the BMW Centre for German and European Studies at Georgetown University.
Peter J. Brews, Ph.D.
Kenan-Flagler Business School, The University of North Carolina at Chapel Hill

Peter Brews is Asociate Dean of the OneMBA® program at UNC's Kenan-Flagler Business School. The program is an innovative, five school Global Executive MBA program with students drawn from North America, South America, Europe, and Asia. Peter teaches International Management, Strategic IT Management, and Corporate Strategy. Past and current firms he has worked with include Eastman Chemical Company, Merrill Lynch, Progress Energy, The Boeing Company, Siemens AG, Lucent Technologies Asia/Pacific (H.K.) Ltd., The Mandarin Hotel Group of Hong Kong, Ford Motor Company, LG of South Korea, Barclays Bank PLC, and the Rank Organization. He also participates in Executive Education Programs offered by business schools affiliated to Universities in the United States and elsewhere. Before joining Kenan-Flagler Peter was a faculty member at the Fuqua School of Business, Duke University, and prior to emigrating to the United States of America in 1989 he was a faculty member of the Graduate School of Business, University of the Witwatersrand, Johannesburg.
Peter holds two graduate degrees, one in Business Administration, and one in Law, and two Ph.D.s, one in Business Administration, and one in Strategic Planning and Policy. He was voted best teacher several times and has received awards for excellence in teaching at UNC Chapel Hill and the Fuqua School of Business. Peter has published in The Strategic Management Journal, Long Range Planning, The Financial Times, The Academy of Management Executive, Business Strategy Review, The South African Journal of Business Management, The South African Company Law Journal, and other journals and publications. His early research centered around M&As, and more recently on strategy formation.
Christi Degen
Faculty of Management, Economics and Social Sciences, University of Cologne

Starting 15 years ago with a Master's degree in Economics Christi Degen has been taking on different tasks of strategic development in the Internationalization of Education. As International Relations Director at the Faculty of Management, Economics and Social Sciences (WiSo-Faculty) at the University of Cologne, she defines the strategic objectives of internationalization for the Faculty, designs measures for their implementation and leads the implementation process. In this context she has been designing educational programs, like double degree programs and certificate programs for specific target groups, and developing a portfolio of international cooperations with the leading Business Schools and Management Faculties worldwide. Also, she was the pioneer in setting-up a Faculty-level International Relations Center as an academically oriented institution to run international programs but also to act as internationalization agent. For this she received the Award for Extraordinary achievements for the University in the year 2000. Between 1999 and 2004 she acted as Programme Development Director in the Community of European Management Schools (CEMS), a pan-European position in this network of 17 leading Management Schools. She conceptualized the market positioning, the learning objectives, the contents and structure of a European programme in International Management, the CEMS MIM. In the year 2002, the European Commission chose the CEMS MIM as one of the 11 best joint programmes in Europe - the only one in the field of Management - and declared it a model.
Currently her activities center around the international positioning of the Cologne WiSo-Faculty in order to prepare for competition in the post-Bologna world. Her most recent challenge is the nomination as local EQUIS accreditation project leader for the Faculty of Management, Economics and Social Sciences at the University of Cologne.
Joyce J. Elam, Ph.D.
College of Business Administration, Florida International University

Dr. Joyce J. Elam is Executive Dean and James L. Knight Professor of Management Information Systems in the College of Business Administration at Florida International University (FIU), Miami, Florida. She was previously an associate professor at the University of Texas and an assistant professor at the University of Pennsylvania's Wharton School. Dr. Elam was a Marvin Bower Fellow at the Harvard Business School during the1987-88 academic year. Dr. Elam earned both her Ph.D. in operations research (1977) and her BA in mathematics (1970) from the University of Texas.
Dr. Elam has published extensively in the areas of the strategic use of information technology, the management of the information services function, and the use of information technology to support both individual and group decision-making. These articles have appeared in such journals as Decision Sciences, Decision Support Systems, Information Systems Research, Operations Research, and MISQ. She is co-author of the book, Transforming the IS Organization, published by ICIT Press. Most recently, her interests have focused on online learning and she was named Vice-Provost for FIU Online in 2006.
Dr. Elam serves on corporate non-profit boards including Royal Neighbors of America, Baptist Health Outpatient Services, Beta Alpha Psi, and the Management Education Alliance.
Carol P. Fimmen
Office of Global Education, College of Business and Technology, Western Illinois University

Carol P. Fimmen is the Director of the Office of Global Education in the College of Business and Technology at Western Illinois University. Her responsibilities include the development of partner relationships with universities in other countries, establishing semester exchanges and summer programs for outbound and inbound students, and assisting interested faculty with grant proposals. During the last 15 years, she has contributed to the development of proposals, served as project coordinator, and directed projects from 25 grants totaling more than $4 million. Over half of these were related to international activities and included universities in Canada, Mexico, Brazil, Bolivia and Europe.
Other important responsibilities include development implementation and supervision of multifaceted, multi-partnership, interdisciplinary leadership development and international academic programs. Her vision is to develop and implement international academic initiatives in order to provide educational and professional opportunities and create international partnerships that strengthen global understanding. Ms. Fimmen has served as a consultant to the Asian Development Bank Institute, the TIESWEB Organization in Paris, the American Council on Education, the Consortium for North American Higher Collaboration, and the Western Interstate Commission for Higher Education.
She was recognized by the American Association of University Administrators in 2004 with the Khaladjan International Award for Innovation in Higher Education and received the White House Award for Initiative in Educational Excellence and Leadership in 1999, the Outstanding Multicultural Programming Award from the American College Student Personnel Association in 1995, and the Excellence for Creative Program Award from the National University Continuing Education Association in 1995.
She holds a bachelor's degree in psychology from Southern Illinois University at Edwardsville, a master's degree in applied psychology from the University of Arkansas at Little Rock, and has completed additional graduate coursework in human resources at the University of Iowa. 4
Frank Frankfort, Ph.D.
U.S. Department of Education

Frank Frankfort received his bachelor's degree in History and Classical Languages from Calvin College, Grand Rapids, Michigan and his masters and doctoral degrees in Medieval Studies from the University of Cincinnati. During his 13-year tenure as history professor at Westminster College (PA), he conducted numerous overseas seminars in cultural history in addition to teaching a variety of courses in European history and multicultural studies.
Dr. Frankfort received an American Council on Education fellowship and served a year as special assistant to the president of Oberlin College. In that capacity he was the author of a national report on science education at selective liberal arts colleges.
In Washington, D.C. Dr. Frankfort has served as coordinator for Science and Humanities projects in higher education for the National Endowment for the Humanities, and as Professor of Humanities and Dean of Arts and Sciences at Hood College, Frederick, MD. He is currently the coordinator of the new European Union—United States Atlantis Program at the U.S. Department of Education's Fund for the Improvement of Postsecondary Education. Over the past ten years the predecessor of that program funded over 700 institutions in the U.S. and the European Union and provided support for over 4000 students studying abroad. The new Atlantis Program builds on that successful history and focuses on the development and implementation of international joint or dual degrees at the undergraduate and graduate levels.
Dr. Frankfort also serves as program officer on grant projects involving institutions of higher education in Brazil, Mexico and Canada. He has recently been appointed to serve as the coordinator for a new U.S.-Russia Collaborative Study Program that will start funding bilateral consortia in 2007. Dr. Frankfort's interests include international education and educational reform issues, particularly issues that deal with the impact of globalization on U.S. educational institutions.
Linda V. Gerber, Ph.D.
The McCombs School of Business, The University of Texas at Austin

Dr. Linda Gerber received her B.B.A. and Ph.D. in Marketing from the University of Texas at Austin. She has served on the marketing faculty at University of Missouri and American University in Washington, D.C. From 1985 through 1989 she was director of the graduate business programs for Boston University's Overseas Programs, based in Germany. She joined the faculty at the University of Texas at Austin in 1990, where, in addition to her teaching responsibilities, she served as Director of Academic Programs for the Center for International Business Education and Research (CIBER) from 1990 through 1999. In her work with CIBER she created and managed programs designed to enhance the global perspective of business education. During this time she was active in developing language programs for business students, supervised all international exchange and scholarship programs in the College of Business, and initiated curricular programs related to international business. In addition, she has served as a review panelist for several U.S. Department of Education grant programs and as an external evaluator for international business education programs at various U.S. colleges and universities. Her international teaching experiences include temporary positions with ESC, Paris, ESADE in Barcelona, the Helsinki School of Economics, and the Steinbeis Institute in Stuttgart and Berlin.
Dr. Gerber has co-authored two often-cited papers on international exchange programs: "Linkages with Overseas Business Schools: Keys to Success" (with Robert T. Green) and "Strategic Partnerships for Global Education: Linkages with Overseas Business Schools" (with Robert T. Green). In addition, she conducted an extensive evaluation of the Business and International Education (BIE) grant program for the U.S. Department of Education which became the foundation for her chapter "Title VI-B BIE Funding, A Survey of Success" in A Field Guide to Internationalizing Business Education (Austin, 2000). More recently she has coauthored a manuscript (with Natalie Bartush) on "The Development of Study Abroad Exchange Programs: A Rich Harvest – Best Practices and Lessons Learned" which was incorporated into the MSU and AACSB publication Study Abroad Programs in Business Schools: Issues and Recommendations by Leading Educators (2002).
Currently she serves as Associate Department Chair in the Department of Marketing and International Business at the University of Texas at Austin.
Dr. Ulrich Grothus
DAAD New York

Ulrich Grothus has been the Director of the North America Office of the German Academic Exchange Service (DAAD) in New York since September 2004. He studied Political Science, and German Language and Literature at the Freie Universität Berlin, where he received his Diplom in Political Science in 1976. From 1976-1982, he worked as a journalist and then joined the international division of the West German Rectors Conference. In 1988, he moved to DAAD, where he started as Director of the Office of the President. His subsequent posts at DAAD headquarters in Bonn included Program Director both for the Northern and for the Southern Hemisphere, Deputy Secretary General, and Director of the Division for Supraregional and Internationalization programs. In between, from 1998 to 2000, he served as Director of the DAAD branch office in Paris.
Prof. Dr. Ditmar Hilpert
European School of Business, Reutlingen University of Applied Sciences
Ditmar Hilpert is professor of strategic management at the European School of Business Reutlingen and Course Director for the German-Amerikan and German-Mexican link. He also heads the Steinbeis Transfer-Center "Unternehmensführung und Gesundheitsökonomie" in Reutlingen and has held and holds visiting professorships at the Northeastern University in Boston, at UDLA in Puebla, Mexico and at CDI in Paris. Ditmar is Scientific Advisor to the European Commission DG XII, Brussels, Biomed2 and The Living Cell, as well as Acadmic Advisor of the Business Program at the Steinbeis-University in Berlin and the Heilbronn Business School, Schwarz Foundation. He is also Academic Head of the MBA in Medical Devices and Healthcare Management at IBS Tuttlingen, Germany.
Ditmar is CEO of Brand GmbH and has held various positions inf the business sector, most recently with Boerhinger Ingelheim as Director of Marketing and Sales at the BI subsidiary Bioscientia, Europes largest reference laboratory. Before, he worked with Hoechst AG in Frankfurt, holding positions as assistant to the Managing Director of Hoechst Pharma Deutschland and as assistant to the Head of Central Pharma Management and lastly as strategic manager for Portfolio Policy and Marketing Strategy.
Dietmar holds a MSc. in biology and an M.A. in Economics from Würzburg University, Germany. He earned his doctorate at the Institute of Pharmacology and Toxicology in Würzburg where he specialized in biomonitoring.
Dr. Eva Maria Höller-Cladders
International Affairs Robert Bosch GmbH

Dr. Eva Maria Höller-Cladders, President of Carnegie Bosch Institute and Senior Vice President, International Affairs, at Robert Bosch GmbH, has many years of experience in leadership and specialist positions. She has worked in various professional communities such as business, academia, the political, and the cultural field. A native of Germany, she has studied, worked and lived in Germany, the UK, Canada and the USA. She has three foci of current interest: the first being on the Asian economies and societies and how they impact today's global business world and global society. Her second focus is the future of transatlantic relationships and how they manifest themselves in political interaction, business transactions and are indicative of underlying values. Both of these areas are connected with a third one: how cultural shifts in global society affect business and how educational and social institutions respond to those shifts.
Currently in transition between two milestones of her professional life, Dr. Höller-Cladders' appointment as President of Carnegie Bosch Institute is drawing to its planned close, and she is preparing to accept the responsibility for International Affairs at Bosch Corporate Headquarters in Berlin, Germany. As leader of Carnegie Bosch Institute she endeavoured to bring together people with different perspectives and from a variety of cultural and professional backgrounds. She was keen on creating a sound exchange of thought and experience, leading to sustainable outcomes. Carnegie Bosch Institute, this unique space for emerging relationships and creating and sharing knowledge was both physical and virtual, an ethically driven container for the blending of business progress, academic innovation and personal leadership.
Dr. Höller-Cladders joined the Carnegie Bosch Institute in 2003 as a Senior Vice President in Bosch with previous responsibility for the globally active Corporate Department for Associate, Executive, and Organizational Development. She had joined Bosch in 1996 after having served in prior assignments at BMW AG, Munich, where she had been responsible for culture policy and management and at Deutsche Bahn AG in Berlin where she had been in charge of Public Relations. She started her career at the City of Bonn, then the German Capital, where she was responsible for political representation and protocol at the Office of the Mayor.
Dr. Höller-Cladders has an educational background in the Liberal Arts and in Business Administration with an emphasis on Philosophy as well as English Language and Literature. She studied in Cologne, Exeter, Toronto and Munich taking her doctorate in English.
Angela James
Queens' School of Business, Queens' University

Angela James is currently the Director of the Centre for International Management at Queen's School of Business (QSB) in Kingston, Ontario. A graduate of the University of Waterloo, Angela began her career at her alma mater as a Recruitment Marketing Coordinator and Academic Advisor in the Faculty of Applied Health Sciences. During this time, she helped establish the exchange partnerships for students to study in England, Belgium and Australia. In 2002, she accepted a position at Queen's University as the Recruitment and Planning Manager for the International Study Centre (ISC), Herstmonceux Castle in England. In this position Angela established exchange agreements that enabled students to study in England and Canada — resulting in a 34% increase in student participation at the ISC. Her passion for internationalization and cultural appreciation lead to her current position at QSB's Centre for International Management. In this role she overseas all international initiatives for the School with her primary focus on exchange programs for undergraduate Commerce, Masters in Management and MBA programs.
Angela has helped establish partnerships for QSB with several top business schools around the world. With 53 international exchange partners, Queen's School of Business has an impressive 67% of its undergraduate students studying abroad.
Eva Alexandra Countess Kendeffy
Consul General of the Federal Republic of Germany

Eva Alexandra Gräfin Kendeffy, Consul General of the Federal Republic of Germany to Florida, Puerto Rico and the US Virgin Islands, Eva Alexandra Gräfin Kendeffy has over 25 years of experience as a diplomat in the Foreign Service of the Federal Republic of Germany. Since 2004, she has served as Consul General of the Federal Republic of Germany to Florida, Puerto Rico and the US Virgin Islands. Her work areas comprise the political, economic, legal and cultural field. In 2005, with a focus on strengthening economic and business ties between Germany and Florida, she accompanied then-Governor Jeb Bush on his economic mission to Germany and has since hosted numerous German political and business leaders throughout the State. She has ample experience in the regions of Latin America and the Caribbean as well as in the United States. From 1999 to 2004 she served as Ambassador of the Federal Republic of Germany to the Dominican Republic. There, she opened a new and expanded Embassy to handle the demands of growing Embassy and Consular services of the region. She also inaugurated the new German-Dominican Cultural Center in Santo Domingo. Her first post was Secretary for Press and Cultural Affairs in Costa Rica (1986 to 1989). After that she served in Washington, D.C. as Political Counsellor in the German Embassy from 1989 to 1994, with responsibilities for the transatlantic relationship between Europe and the United States. From 1994 to 1999, she served as Vice Director of the Federal Foreign Office in Berlin, Germany, helping prepare the relocation of the Foreign Office from Bonn to Berlin following reunification. She joined the Diplomatic Service of the Federal Republic of Germany in 1982, and after two years of diplomatic training, served in the Political Department of the Foreign Ministry in Bonn from 1984 to 1986. Before joining the Foreign Service, her studies in Munich, Hamburg, Berlin and Geneva led to degrees in Law and English and Romance Languages and Literature.
Dan LeClair, Ph.D.
AACSB International

As Vice President and Chief Knowledge Officer, Dan guides AACSB International's thought leadership initiatives and leads its Knowledge Services area. Thought leadership intends to make AACSB the world's most respected and informed voice regarding significant issues in management education. Knowledge Services is the leading source of data and information about business schools. Dan is a recognized expert and frequent presenter on business education topics. Prior to joining AACSB, Dan was an associate professor at The University of Tampa's College of Business, where he also served three years as associate dean. He also has taught at Wirtschaftsuniversität Wien and lectured on game theory at Instituto Tecnológico y de Estudios Superiores de Monterrey (ITESM). Dan earned a Ph.D. in economics from the Warrington College of Business Administration at the University of Florida.
Prof. Dr. Ursula Lehmkuhl
John F. Kennedy Institute, Freie Universität Berlin

Ursula Lehmkuhl is Professor of Modern History and Chair of the History Department, John F. Kennedy Institute for North American Studies, Freie University of Berlin. She teaches nineteenth century American cultural and social history, twentieth century American and Canadian diplomatic history, and the history of American and Canadian foreign relations. She published several books, among them Canada's Overtures towards Asia: The Colombo Plan, the New Commonwealth and the Reconstruction of the Sterling Area, 1947-1952 (1990); Enemy Images in American History (1997), Theorien Internationaler Politik (3rd ed. 2000), Pax Anglo-Americana: Machtstrukturelle Grundlagen anglo-amerikanischer Asien- und Fernostpolitik in den 1950er Jahren (1999), and Atlantic Communications: The Media in American and German History from the 17th to the 20th Century (2004). Her research interests include German Immigrant Letters, 19th and 20th century, the history of Anglo-American relations during the 19th century, Canadian-American relations after September 11 and Colonial Governance in British and French North America. Together with Britta Baron, she developed the Transatlantic Degree Programs Project which both now jointly chair. In February 2007 she has been elected First Vice President of Freie Universität Berlin.
Dr. Bianka Lichtenberger
FIBAA - Foundation for International Business Administration Accreditation

Bianka Lichtenberger is managing director of the FIBAA (Foundation of International Business Administration Accreditation). The swiss non-for-profit quality assurance agency is acknowledged by the German Accreditation Agency as the accrediting body in Germany for study programmes in economics, business, social sciences and law. FIBAA is working as a transnational agency with operative headquarters in Bonn (Germany) and Zurich (Switzerland). As Chief Learning Officer and VP of several multinational headquarters (ABB, GEA, Schindler, Alusuisse-Lonza) Bianka has gained substantial experience in the field of quality control in education and learning. Her parallel activities as a peer in accreditation and evaluation processes and as a quality assurance consultant to Institutions of Higher Education have resulted in a profound knowledge of the specifics of multiple national educational markets in Europe, Asia and the Americas. Bianka studied economics and sociology and is holding a Ph.D. in Business Administration. She has been educated as an economical journalist and editor and received several awards for her articles and publications in education and learning and for her work at the International Labour Office in Geneva. As the former president of the European Women in Management Development (EWMD) she is chairing the European audit in Gender & Work Life Balance. Bianka worked and lived in european and non-european locations and is mother of one daughter.
Joseph E. McCann, III., Ph.D.
John H. Sykes College of Business, The University of Tampa

Joe is presently the Dean and Professor of Management in the John H. Sykes College of Business at The University of Tampa. He is an internationally acknowledged consultant, researcher, and author on organization design and strategic change, mergers & acquisitions, rapidly growing technology companies, and new business venturing. He has been cited in publications such as the Wall Street Journal, Fortune, Barron's, Crain's, USA Today, and in Asian and European business publications.
Current board memberships include the Russell Trust Company, Human Resource Institute, and the editorial board of a leading technology management journal. He was a board member of the Human Resource Planning Society, Tampa Bay Technology Forum, STAR-TEC, and multiple community organizations, as well as a governor-appointed member of the Washington Quality Award Council, and founding trustee of the Washington Biotechnology Foundation.
He earned his MA and PhD in Management at The Wharton School, and held faculty positions at the University of Florida and Emory University. Prior to Wharton, he worked in private sector firms and served an internship on the US Senate Budget Committee. At Emory, he was a member of the Latin America & Caribbean Advisory Board affiliated with The Carter Presidential Center and a Senior Research Fellow in the Center for Leadership & Career Studies.
Lucienne Mochel
AACSB International

Lucienne Mochel joint AACSB International – the Association to Advance Collegiate Schools of Business in November 1994 and currently serves as the Assistant Vice President of Accreditation Services. In this position she oversees the daily operations of AACSB's Accreditation Department and the management of the accreditation committees and processes. This includes maintaining relationships with 549 accredited business schools and assisting 159 schools in their effort to seek AACSB accreditation.
Prior to joining AACSB Lucienne worked for over 20 years in the field of training and workforce development. Her experience includes senior leadership positions in the Netherlands as Employment and Training Director for the municipality of Rotterdam and as Program Administrator for a large non-profit organization in Clearwater, Florida.
Lucienne has a Bachelors Degree in Career Guidance Counseling from the Academy of Man and Labor in Tilburg the Netherlands and a Masters Degree in Management, Leadership and Organizational Effectiveness from the University of South Florida.
Tonio Palmer
The Joseph H. Lauder Institute, The Wharton School, School of Arts and Sciences, University of Pennsylvania

Mr. Palmer is Director of language programs, marketing, and recruiting at the Lauder Institute of the University of Pennsylvania. The Institute offers a combined MBA/MA in International Studies degree program for students with advanced foreign language proficiency. Students begin their studies by spending two months in one of eight countries, studying language, history, business and culture, and visiting corporations, before commencing the MBA portion of their degree. Recently the program was expanded to include University of Pennsylvania Law School students with similar international interests.
Prior to joining The Lauder Institute, Mr. Palmer was the founding CEO of IOSONO GmbH, a Fraunhofer Institute spin-off with offices in Ilmenau, Germany, Hollywood, CA, and New Jersey. Mr. Palmer has also established a small business development and marketing company, GermanyCentral, Inc., to help German firms enter the US market. Client projects included the creation and launch of German TV in the US. and various Fraunhofer Institutes.
Mr. Palmer spent eight years in senior management positions in Germany. He holds a BA from Bowdoin College, an MBA from The Wharton School, and a Masters in International Affairs from the University of Pennsylvania as a member of the Lauder Institute of International Management Studies. He also spent a year at the Ludwig Maximilian Universitaet, Munich, as an exchange student. He lives in New Jersey with his wife and three children.
Prof. Dr. Hans-Georg Petersen
University of Potsdam, German Institute for Economic Research (DIW) Berlin
(born 1946, married, two children), is Full Professor of Economics and research professor at the German Institute for Economic Research Berlin (DIW Berlin). He was educated at the Christian-Albrechts University of Kiel, where he earned his diploma, doctoral degree, and Habilitation. Prof. Petersen taught macroeconomics, public, environmental and social economics at the Johannes-Kepler-University of Linz/Austria and the Justus-Liebig-University of Giessen before joining the Faculty of Economics and Social Science at Potsdam University in 1995. As Visiting Professor he was engaged at the University of Wisconsin, the University of Lodz/Poland, Athens University of Economics and Business, the Universities of Leipzig and Jena, the University of New South Wales/Sydney, the Australian National University/Canberra, the Finance Academy Moscow, the Finance Academy Ulan Bator, and the Université Montpellier I.
He is author of 24 monographs, 65 working papers and about 100 articles in leading professional journals (amongst Econometrica, FinanzArchiv, Applied Economics Quarterly, Kyklos, Public Finance, PWP, Review of Income and Wealth, Review of World Economics, Studi economici, and Tax Notes International). He has published widely on economic and fiscal policy with emphasis on taxation and transfer systems. He is working as consultant for the GTZ, the EU, inWent, and the World Bank and has experience as advisor in Poland, Bulgaria, Croatia, Bosnia and Herzegovina, Serbia, Georgia, Armenia, Mongolia, Usbekistan, and Russia . Since 2002 he is advisor of the Duke of Liechtenstein and the Liechtenstein Government as well as member of the German/French Council of Economic Advisors.
Rebecca Porterfield, Ph.D.
Cameron School of Business, University of North Carolina at Wilmington

An expert in strategic partnerships and cooperation, Rebecca is Director of International Programs and the Cameron School of Business at UNC Wilmington. Her previous positions at UNC Wilmington include Associate Vice Chancellor of Academic Affairs, Associate Dean (Cameron School of Business), Chair, Department of Management and Marketing (Cameron School of Business) and Director of MBA Program (Cameron School of Business). Since 1995, she teaches as Associate Professort of Management at UNC at Wilmington Undergraduate and Graduate classes in International Management, Diversity, Leadership, Team Building and, Organization Theory and Behavior. Her academic experience began as Assistant Professor at the Mississippi State University, followed by an Assistant Professor Position at Hofstra University in Hempstead, N.Y.
She was Internal Consultant for the Vice President of Academic Affairs and Provost at the Mississippi State University, where she was appointed to develop integrated strategic planning processes and to work with the University Alumni/Development foundation. Prior to joining the university world, she held management and senior analyst positions at Duracell Corp. in Bethel, CT, and at Perkin Elmer Corp. in Wilton, CT. She was also cosultant with the Small Business and Technology Development Center in Greenville, South Carolina.
She is a frequent speaker to area organizations on CSB topics, team building, and international updates. She consulted two regional CEO's as Executive Coach, and was involved in over 20 consulting opportunities with various profit and non-profit organizations from 1995-2001. Furthermore, she developed, managed, and delivered over 30 executive education programs ranging in size from 30-350 participants (including Morgan Crucible International, HLM Architects, General Electric, Southeastern Cooperative Education, et.al.). Rebecca is member of numerous academic and business related organisations and has widely published in various business and academia related publications. For her commitment to international education, she has received a number of awards and fellowships including 2004 the Honorary Fellowship of the Hochschule Bremen and the J. Marshall Crews Distinguished Faculty Award in 2002. She holds a Ph.D. from Clemson University, S.C., an MBA and a B.S. from Mississippi State University.
Prof. Dr. Reinhold Roth
Department of Business Studies, Bremen University of Applied Sciences

Reinhold Roth is Professor of Political Science, International Management and Empirical Social Research at the Department of Business Studies, Bremen University of Applied Sciences (UASL). He studied Political Science, Economics and Sociology at the Free University of Berlin and received his doctorate at the University of Hamburg. He is author editored publications in political sociology, international relations and international management. Dr. Roth has been involved in several research projects and has served in leading positions of international business education. From 1995-2001 he was member of the governing board at the Institute of International Business and Research (IIBR), in Poona, India. From 1997-2006 Roth was director of the Business Administration / International Management (BIM) degree program and from 1998-2005 EU Coordinator of the Transatlantic Business School Alliance (TABSA). Since 1998 he heads the NAFTA Liaison Office at Bremen University of Applied Sciences. He is European Consultant in the Steering Committee "Partnership for the Education of Future Global Business Leaders," Washington D.C., and UAS program coordinator at the Franco-German University (DFH) and heads the International Master of Business Administration (IMBA) degree program. Roth has further been appointed coordinator of the Internaitonal Business School Alliance (IBSA). Since 2006 Coordinator of the working group section of Economics at the German – French University.
In 2006 Roth received the "Certificate of Recognition for Leadership in International Education" of East Tennessee State University and an "Award for the Outstanding Contribution toward the Internationalization of Bremen University of Applied Sciences".
Hemant Rustogi, Ph.D.
John H. Sykes College of Business, The University of Tampa

Professor Hemant Rustogi is Chairman of the Marketing Department and Dana Professor of Marketing at The University of Tampa in Tampa, Florida. Dr. Rustogi has published in The Journal of Euro-Marketing, The Journal of Management Development and the Journal of Economic Education. He has co-authored book chapters that have appeared in five separate volumes of Challenges for Management. Professor Rustogi's professional experience includes a twenty-year stint as an entrepreneur, and almost 20 years as an academician and as an international business consultant in the areas of strategic planning, service quality and marketing research. As a doctoral student, Dr. Rustogi was invited by the American Marketing Association to participate in the doctoral consortium at Harvard Business School. He has been trained in international negotiations at Harvard Law School, and in the marketing of High Technology products and Services at MIT.
Dr. Rustogi has taught courses in Principles of Marketing, International Marketing, Research Methods, Customer Value, Service Quality, Marketing Strategy and Consumer Behavior among others, and frequently teaches in Executive Training Programs at GSBA, Zurich, Switzerland. Professor Rustogi was honored as the recipient of the 1999 Award for "Teaching Excellence", given annually by the College of Business at The University of Tampa to the faculty member who exemplifies excellence in the classroom. He has also won 11 awards from Zurich in the past 7 years for his teaching and case development initiatives.
The University of Tampa's international business program initiatives have been spearheaded by Professor Rustogi who, with faculty colleagues, has been awarded close to $2 million in matching funds grants by the US Department of Education (Title VIB) since 1992. A native of India, he has traveled extensively around the world. An avid golfer, Prof. Rustogi lives in the Tampa Bay area with his wife and two children.
Diego Sammaritano
European Commission
Diego Sammaritano, is Programme Manager, Directorate General for Education and Culture, European Commission. In this capacity he coordinated the EU-US and EU-Canada cooperation programmes as well as pilot projects with Japan, Australia and New Zealand. He has been in charge of the renewal of the education agreements with the U.S. and Canada. Working in close contact with the U.S. Department of Education, Diego has developed the new EU-US Atlantis programme focusing on transatlantic joint and double degrees. He holds a degree in Economics and Business Administration from University of Palermo (Italy) and a second MA Degree in European Integration and Development from Vrije Universiteit Brussels (VUB, Belgium). He started his career in the European Commission in 1994 working in the Directorate General for External Relations as desk officer for trade relations with Japan. He was in charge of the Executive Training Programme in Japan and lately for the EU export promotion campaign Gateway to Japan.
Michael A. Schiffhauer
International Trade & Business Development, Enterprise Florida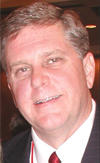 Michael Schiffhauer is the Director of Europe and the Life Science/Medical (LS) and Information Communication Technologies (ICT) for Enterprise Florida, Inc. (EFI). Michael is designated as the contact liaison for trade and development between Europe and Florida and responsible for promotion of Florida's LS and ICT industries globally. His primary responsibilities consist of the development and implementation of Florida Pavilions in major international trade fairs abroad for both industry sectors. Michael's past positions were Managing Director with Orlando Sun & Skin Care, Inc., Senior Director with the Orlando Economic Development Commission- International Trade and Business Development Office, Manager, International Trade and Development with the Florida Department of Commerce and President/CEO of MAS Ventures, Inc.
His educational background consists of advanced study at the American Graduate School of International Business (Thunderbird-Arizona), Graduate Studies in International Affairs-Global Economics, and dual Bachelor Degrees in History and Humanities with a minor in Business Management from Florida State University.
Christiane Schmeken
German Academic Exchange Service DAAD
Christiane Schmeken studied social anthropology at the Universities of Marburg and Mainz in Germany. From the beginning of her professional career in 1988, she has been actively promoting exchange and co-operation between institutions of higher education within Europe and beyond. From 1988 to 1999, she was staff member of the "Franco-German council of Higher Education" - a bilateral institution with the mission to create double degree programmes between Germany and France. In 1999, she was project manager of the first Franco-German job fair held in Metz, France. In spring 2000, Ms Schmeken joined the "German Academic Exchange Service" (DAAD) headquarters in Bonn. She is currently head of section 221 "Internationalisation of Study and Teaching" running three major programmes: a student exchange program called "International Partnerships in Higher Education" (ISAP), the Integrated Double Degree Courses Program and the Visiting Professors Program.
Prof. Dr. Ulrich Schüle
FH Mainz Business School, Mainz University of Applied Sciences

Ulrich Schüle is the Dean of the FH Mainz Business School and professor of International Economics. He is also president of CIDD – the Consortium for International Double Degrees.
Since 1996 Ulrich has headed the University Committee on Internationalisation, advancing the implementation of exchange and double-degree agreements with universities in the UK, USA, Argentina, Australia, France, Sweden, Estonia, Latvia, Lithuania, Estonia, Poland, Hungary, Spain. One of his recent task has also included the transformation of the former German "Diplom" courses in Business Administration to the Bolognatype Bachelor and Master structure. Furthermore, he is involved in the development, implementation and management of International Business Programmes at undergraduate and postgraduate level (FH Mainz) and, on behalf of FAW (Fortbildungsakademie der Wirtschaft), the development, implementation and management of a 12-months-course as "South East Asia Manager".
Ulrich freequently teaches at the Accadis University of Applied Sciences and at the Provadis University of Applied Sciences and has held various visiting professorships at numerous institutions abroad, including Coastal Carolina University, Conway SC (USA), Lander University, Greenwood SC (USA), Pfeiffer University, Charlotte NC (USA), Universidad Nacional de la Plata; Universidad de Ciencias Empresariales y Sociales (UCES), Buenos Aires (both Argentina), Brighton University, ESCE Paris (Pôle Universitaire Léonard de Vinci), Universidad San Pablo Madrid, Universitat de València, University of Vilnius, University of Gävle (Sweden).
Ulrich worked as personal assistant to the President and CEO of the TRUMPF Group. In addition to his work in academia, he consults private companies and higher education institutions, the EU Commission (mainly withTACIS Projects). He holds a master's degree in economics and has earned his doctorate at Augsburg University.
Dr. Jon Lane Smith
Bureau of Business and Economic Research, College of Business and Technology

Dr. Jon L. Smith received his undergraduate degree from Mississippi State University in Business Administration in 1968. After military service, he studied at the University of South Carolina where he earned a Master's degree in Transportation and a Ph.D. in Economics with areas in Transportation Economics and Industrial Organization.
He has been a member of the faculty of Economics, Finance and Urban Studies since 1980. While at East Tennessee State University he has served as the Chairman for the Department of Economics and Finance and currently is the Director for the Bureau of Business and Economic Research.
Dr. Smith has published numerous papers and articles and has been involved with a number of grants. He has been involved in projects for the U.S. Department of Energy, the U.S. Department of Transportation, the State of South Carolina, the U.S. Department of Education as well as private foundations and municipal governments. He has served as the U.S. coordinator of the Transatlantic Business School Alliance, a consortium of 7 U.S. and European universities and has lectured in both the United States and Europe. He is an honorary faculty member of the University of Applied Sciences in Bremen, Germany. Dr. Smith is also currently the Principal Investigator for two grants funded by the U.S. Department of Education. One of which is focused upon developing international entrepreneurship and relationships between business incubators in various countries and the other which is focused upon developing educational and business relationships with Canada and Mexico.
However, Ms. Veraska's association with SUNY goes back to her days as an undergraduate student. She holds a B.A. in French from SUNY Geneseo. While enrolled at Geneseo, she spent her junior year abroad studying for the academic year at the Sorbonne in Paris, France. Having completed her studies, she stayed on and traveled throughout Europe. Upon graduating from Geneseo and hoping to use her degree in French, she moved to New Orleans where she held a variety of jobs for several years.
Linda Veraska
The State University of New York System Administration

Linda Veraska is Program Officer for Turkey at SUNY's Officeof International Programs as Program Officer for Turkey. In thewinter of 2006, she also had the opportunity to live in Ankara,Turkey, working in SUNY's office there.
Eventually Linda returned to New York and decided to pursue a master's degree in information systems from Marist College; Ms. Veraska continued to work in the computer field, first as a systems analyst and then as a technical support specialist, a position in which she continued for the next six years before joining SUNY.